Bathroom Design Ideas in Bakersfield, CA
Find the perfect solution for your home with custom bathroom remodeling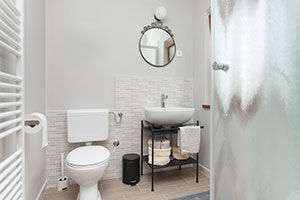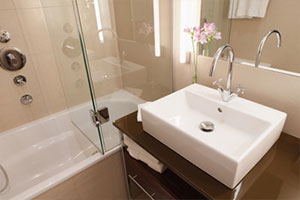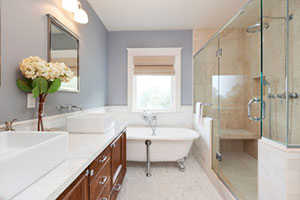 Whether you're talking with an architect, interior designer, real estate agent or the average homeowner, everyone will agree that the bathrooms in a house play a major role in the home's overall appeal and value. When a house has well-designed bathrooms, many other shortcomings are easily overlooked. This isn't surprising, considering how essential and important the bathroom is in our everyday lives.
If you're interested in upgrading your bathroom, the experts at Sorci Construction Services can help. We specialize in bathroom design and remodeling, including custom designs that perfectly match your ideas and your home's existing style.
We offer our bathroom design and bathroom remodeling services in Bakersfield, and we can help you create the perfect bathroom for your home. Call us today to get a free estimate!
Some of the characteristics of a well-designed bathroom
There are numerous options for homeowners looking to remodel their bathroom, including everything from major fixtures to small finishing details. Quality bathroom designs generally include the following features:
Attractive & functional lighting: A well-designed bathroom will always have two levels of lighting. Ambient light is usually provided by an overhead fixture with its own dedicated switch. However, there must also be task lighting around the sink area.
Eco-friendly fixtures: In new construction, building codes require low-flow toilets, showerheads and sink aerators. Upgrading an older bathroom with water-conserving fixtures is also recommended. All three bathroom fixtures can be replaced in less than a day, allowing you to say goodbye to leaky faucets and toilets that run continuously once and for all!
Attractive hardware: Bathroom hardware includes grab bars, towel racks, towel hooks, toothbrush holders, toilet paper holders, magnifying mirrors, and more. These finishing touches are essential to tying any design together.
Visible & hidden storage: Some everyday bathroom items can be displayed on open shelving, while items that are bulky, unattractive or more discrete need to be stored behind closed doors. Choosing a vanity that offers counter space and cabinets is generally a better than a pedestal sink, especially in small bathrooms.
Natural light: It's not good to have a bathroom window above the tub or in a shower wall, but just about anywhere else will work. A source of natural light (from a window or skylight) provides a valuable sense of spaciousness in a space that can otherwise feel cramped and claustrophobic.
A quiet, well-functioning vent fan: A bathroom requires mechanical ventilation to rid the space of high humidity and odors. A good bathroom vent fan runs quietly (look for a rating of 3 Sones or less), and is vented directly outside rather than into the attic.
A beautiful bathroom starts here
The specialists at Sorci Construction Services can transform your bathroom at a price that's affordable. We can combine functionality and comfort with a more attractive space that you no longer have to be embarrassed of.
Call us at 1-844-385-9585 or contact us online for a bathroom remodeling estimate! We proudly serve Bakersfield CA.
Looking for a price? Get a no cost, no obligation free estimate.